The North Huron Community Food Share was formed in 1995.  The Reverend Vicars Hodge of the Trinity Anglican Church in Wingham was instrumental in establishing the Food Share.  An advertisement was placed in the Wingham Advance Times to acquire directors and volunteers.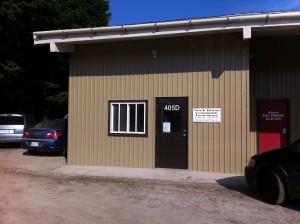 In April 1996, Dave Miller, owner of Home Video constructed a room for the Food Share in a building adjacent to his business.  Vicars Hodge, Don Newman, Jim Casserly, Rev. Maggie, Len Meyers and Pat Nolen were Operations Managers.  Bob Raper was part of the Food Drive Committee.  Sally Campeau was treasurer for nine years.
There have been many wonderful and supportive volunteers over the years who have dedicated their time and energy to the Food Share. Today, Bob Raper is the only remaining original member that continues to be on the Board of Directors.
The operational procedures that we follow today at the Food Share were established from the original meetings we had back then when considering how best to serve the community.
Churches, schools and businesses have been instrumental in providing much needed ongoing financial support as well as many food donations over the years.
The support of the community has been amazing and it is because of each one of you, that we can help as many people as we do.
Food Banks Canada, its Members (provincial associations), Affiliate Member food banks and associated agencies believe that everyone in Canada has the right to physical and economic access, at all times, to sufficient, safe and nutritious food which meets their dietary needs and food preferences.
The Ethical Food-banking Code
As an Affiliate Member of Food Banks Canada, The North Huron Food Share will:
Provide food and other assistance to those needing help regardless of race, national or ethnic origin, citizenship, colour, religion, sex, sexual orientation, income source, age or mental or physical ability.
Treat all those who access services with the utmost dignity and respect.
Implement best practices in the proper and safe storage and handling of food.
Respect the privacy of those served, and will maintain the confidentiality of personal information.
Not require payment of any kind for donated food or consumer products, at any time from those assisted by their respective programs.
Acquire and share food in a spirit of cooperation with other food banks and food programs.
Strive to make the public aware of the existence of hunger, and of the factors that contribute to it.
Recognize that food banks are not a viable long-term response to hunger, and devote part of their activities to reducing the need for food assistance.
Represent accurately, honestly and completely their respective mission and activities to the larger community.
Click here for more information from Food Banks Canada