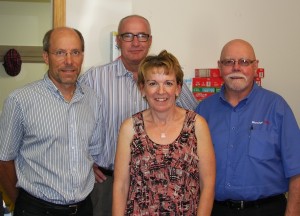 At a meeting of the North Huron Community Food Share earlier this year we determined there was a need to be the "go-to" charity of choice in the North Huron area. We are very fortunate that we live in a community that eagerly responds to our requests for food and monetary donations but with the demands of serving over 100 families per month, the Board felt that we needed to get our name out there even more. With the demands on everyone's time these days, It was decided that a facebook page, website, new logo and slogan would give the Food Share more public exposure as well as creating a consistent, recognizable message. We wanted to provide our community quick access to information on how to volunteer, how to coordinate a food drive, upcoming events and create a central location to access this information. This would also be a forum for us to give back to the community by listing our partners in the area and links to their websites. It was also suggested that with the increased demand for the Food Share, we needed to create a more effective and efficient way to keep track of our clients and their families and create status reports for Food Banks Canada as well as our own Board.
Doug Kuyvenhoven of Wingham was approached early on in the year for some direction and brainstorming on both projects and readily jumped at the chance to donate his talents to write a user-friendly computer database program for the Food Share. Doug in connection with Stephanie Towton, one of our directors, would also work to create a website for the Food Share. After months of consultation and gathering of information, we are extremely pleased to be unveiling many new changes at the Food Share. Our new client database program is now in place and working great! On behalf of the Food Share, Doug approached Pieter Venema of Royal Homes and a new Mac computer has also generously been donated. We have also graciously received a new printer from Microage Basics to run status reports for our monthly meetings. Our website, www.nhfoodshare.ca is now up and running as well as our facebook page www.facebook.com/NHFoodShare. Please take the time to check out each of these to see what has been going on at the Food share, what is going on in the future and how you can volunteer your time or coordinate a food drive. The slogan we chose to represent the Food Share is "So No One Goes Hungry" and the logo is hands clasped together. We view our community as always pulling together to help our neighbor so no one has to face the challenges of not having food on the table. Your continued support to the Food Share solidifies this slogan and logo, and represents our community very well.
The Board is always looking for volunteers. If your talent is public speaking or you want to improve on your speaking skills, we have many opportunities with various organizations over the course of the year. If you would rather be on call to pick up donations that have been collected, we are always looking for drivers. If you only have an hour a week to donate or can spare up to 5 hours a week, we can always use your talents. Currently we are working with Emily Beard of the Township of North Huron who is looking after a community garden she planted behind Libro. We are always looking for people on Tuesday evenings at 6:45 to donate an hour of their time to help pick produce for the Food Share.
Please check out our website and click on the volunteer section to see if we are a good fit for you. In conjunction with the Huron County Food Bank Distribution Centre, backpacks are packed at their location in Exeter and distributed to all food banks in the area. The Food Share is pleased to be able to distribute 70 school backpacks to children in this area. Families pre-register with the Food Share in order to take part in this program that is coordinated yearly. Backpacks are given out to children from JK to Grade 12. Due to inclement weather at the Howick Cruise Night on August 10th we will be collecting food at their last Cruise night of the year on September 14th. As an added feature this year, a local band "No Expectations" will be donating their time and talent to entertain for the evening. Adam Schefter, a local craftsman is donating a portable stage for the band to use. Last year, much to the surprise of many, we collected 11 large blue tubs of food along with some monetary donations. SO… mark Friday, September 14th from 6 p.m. to dusk on your calendar and come out to the Howick Community Centre (east of Gorrie) and see some great classic vehicles and support the North Huron Community Food Share. Fall is around the corner and with it brings Thanksgiving. This is always a hard time of year and the need for food is always great. Please check out our new website in a few weeks for a list of food drives in the area or if you wish to organize a food drive, please check out the information available online on how to coordinate a food drive. If you wish to make a monetary donation to the Food Share, please send cheques payable to North Huron Community Food Share, Box 354 Wingham, ON N0G 2W0 or drop off at the food Share from 9-1 on Wednesdays.