The North Huron Community Food Share was formed in 1995. The Reverend Vicars Hodge of the Trinity Anglican Church in Wingham was instrumental in establishing the Food Share. An advertisement was placed in the Wingham Advance Times to acquire directors and volunteers.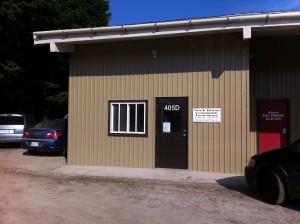 In April 1996, Dave Miller, owner of Home Video constructed a room for the Food Share in a building adjacent to his business. Vicars Hodge, Don Newman, Jim Casserly, Rev. Maggie, Len Meyers and Pat Nolen were Operations Managers. Bob Raper was part of the Food Drive Committee. Sally Campeau was treasurer for nine years.
There have been many wonderful and supportive volunteers over the years who have dedicated their time and energy to the Food Share. Today, Bob Raper is the only remaining original member that continues to be on the Board of Directors.
In 2015 the Food Share expanded their space to add a large walk in freezer, and more shopping space on the floor for products.  The addition of a walk in freezer made it possible to accept larger meat orders, and frozen good offers from Feed Ontario.  
By 2019, it became apparent that the food share was running out of space to store dry goods for stocking our shopping shelves.  Again, we expanded our space to keep up with the stock needed to serve larger numbers of people each week.  
When the COVID-19 pandemic hit in March 2020 the Food Share had to quickly change their practices to provide social distancing for the volunteers working, change the system of service to reduce contacts, add deliveries to their opening days, and manage the increase in numbers that occurred.  
By October 2020, the food share operations team realized that they were at an impass with trying to follow pandemic protocols, store the food needed to serve , and provide space to organize large numbers of deliveries.  At this time they thought they would have to find and move to a new location.  Wingham Super Storage offered a great solution to our problem, and adapted their storage business to provide us an additional 300 square feet.  
In January 2021 the food share moved into their new workroom/storage space, and secured a grant to add a large wall fridge unit on the shopping floor to accommodate the cold space we need to store dairy, eggs and fresh produce.  
With the increase in pallet deliveries to the food share, Wingham Super Storage assisted the food share with the installation of a larger door to bring pallets to our storage room.  The fantastic relationship between Wingham Super Storage and the Food Share has allowed us to provide a safe, well organized system to serve our community.  Together We Are Better!
The operational procedures that we follow today at the Food Share were established from the original meetings we had back then when considering how best to serve the community.
Churches, schools and businesses have been instrumental in providing much needed ongoing financial support as well as many food donations over the years.
The support of the community has been amazing and it is because of each one of you, that we can help as many people as we do.