Lucknow Sentinal – by Garit Reid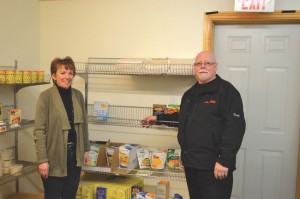 The North Huron Community Food Share in Wingham is a place that not only provides food for people in need, it is also a place of trust and compassion that allows for people to feel welcome in their time of need. Food share chair Gord Kaster believes that trust is an important part of the process because without it you can't begin to help the people that really need it.
Operations manager Joyce Johnston said there have always been challenges in her seven years working at the food share, but she said the community and area they serve have been so giving and she said without everyone's constant support they wouldn't be able to continue their work.
Since Christmas the food share has served 350 household, which includes 508 adults and 452 children. They have also had 31 new families (clients) come to the food share, which Johnston said is quite a large number.
"We are very blessed to live in this community because they are very giving. We don't have to reach very far in order to get the help we need," said Johnston. "It does worry me to a point if more families continue to come every single month that it will soon continue to deplete our store. Since Christmas I've had to do a lot of the shopping myself, just to keep the shelves stocked." Johnston added that right now they are doing fine and said they will always welcome anyone who needs to use their service.
Johnston said the food share is currently looking for school lunch items, which she said is always important during the school year. She said they are looking for various items like drinking boxes, granola bars, pudding cups, cheese and crackers, etc. She said these are more important now than ever because most schools are peanut free and parents can't use peanut butter, which Johnston said is the go to food staple for a lot of parents.
Kaster said he was overwhelmed with the generosity of people this past Christmas and even though they are always in need of donations, he knows the community is always there for the food share.
"It was amazing leading up to Christmas this year how much food and monetary donations were given. We got loads and loads of food where we didn't know where to put some of it at times," said Kaster. "However it doesn't take long for that food to go and it's always important for us to keep the word out there so we can keep donations going all year round."
One of the things the food share is always looking for is volunteers and Kaster said it's always important for any volunteer who want to help out that they always consider the needs of the clients.
"We can always use volunteers and we are actually low on volunteers for Wednesday mornings from 9 a.m. to 1 p.m. So if anyone wants to volunteer they can contact us through our website at www.nhfoodshare.ca or they can contact the food share directly," said Johnston. "Compassion is a key component to being a volunteer," added Kaster. "We don't want anyone who is judgmental. There are a lot of people who are only two or three paychecks away from using our facility and being considerate of people's feeling is important. I think we have achieved a level of trust with people and we don't want to break that trust."
Johnston said they don't know where they would be without the Exeter Distribution Centre who deliver food to them twice a month.
"I have been here seven years and our building used to be out front from our current location and our shelves didn't have a fraction on them to what we have now," said Johnston. "We gave out the bare minimum then and I think we are now able to give a bigger variety to our clients because of the distribution centre.
Kaster said there are a lot of positives for the food share like keeping the level of food they give to clients consistent as well as seeing well educated kids thinking of clever ways to donate. He said there are a lot of kids out there that have unselfishly donated to the food share instead of receiving presents for their birthday. He said it is just amazing.
"I asked a client just as she was leaving today what they wanted people to know about the food share. She said just let everyone know how much they appreciate the food share and the people who work there," said Johnston. "They said it has really been a godsend and the people here are so friendly and welcoming and we just really appreciate it."
For more information on the North Huron Community Food Share, go to nhfoodshare.ca or email them directly at nhfoodshare@gmail.com. People can also phone at 519-357-2277 ext. 4.