Bruce Power Website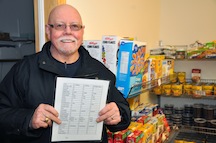 Gordon Kaster, chairman of the North Huron Community Food Share, holds a copy of the family shopping list at their location on Josephine Street in Wingham. Gordon recently accepted a $500 donation from Bruce Power for the food bank.
The North Huron Community Food Share has been operating in Wingham for 16 years. The volunteer organization has quietly assisted hundreds of families locally and in the surrounding areas of Teeswater, Lucknow, Blyth, and Brussels who have needed help putting food on the table through hard times.
As its name implies, the approach to the organization is about sharing with others when they need it most.
"When the recession hit two to three years ago, we saw our numbers of registered users double," said Gordon Kaster, chairman of the Food Share. "We are currently assisting approximately 134 families who can come to receive food once per month."
Aimed at providing a more human experience to the typical food bank visit, families are given a shopping list provision based on the size of their family. On their monthly visit they then get to choose items from the Food Share shelves, similar to how they would shop at a grocery store. Local farmers donate fresh meat on a regular basis so recipients can have a rounded meal on the table.
Although food is their focus, the Food Share also stocks personal hygiene and baby items like diapers.
"People sometimes forget the number of non-food items that a family purchases at the grocery store. These things are expensive, yet important for the health of the family," said Gordon.
In the words of a single mother with two young children that was referred to the program at the end of last year, no one ever thinks they will need a food bank. But, when the cupboards are bare and there is not enough money for food, there is nowhere else to turn.
Gordon described that mother's visit as an emotional one for both, as he happened to be volunteering the day she came in.
"She cried the entire time she was here. I tried to maintain composure providing assurances that things would get better for her, and that there was no shame in getting a little help from others," Gordon recalled. "But when she turned around in the parking lot, came back in and asked if she could give me a hug, I completely broke down. It's in these moments I know why the work we do here is so important to our community."
Bruce Power recently provided a cash donation of $500 to help the program kickstart its year. The food bank is open Wednesdays from 9 a.m.-1 p.m. To make a monetary or food donation, contact Joyce Johnston, Operations Manager, at 519-357-2277 ext. 4